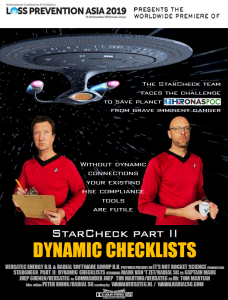 StarCheck Part II: Dynamic Checklists
Plot summary
Join the StarCheck crew as they face their biggest challenge yet: saving the planet Kahronaspoc from grave imminent danger.
Having cleared the space debris in their previous mission, Captain Mark and Commander Joep steer their HSE Enterprise spaceship towards an uncharted piece of the galaxy in their mission to explore unknown hazardous worlds.
Upon arrival at the industrial planet Kahronaspoc, they soon find out that the HSE Management System is missing crucial features, reminding them of the process industry back on Earth as it was 50 years ago. They explain their concept of a Dynamic Checklist to the operations manager of Kahronaspoc, mr. Tom Martian, and display the ways in which the current tooling is failing on the ship's viewport.
Soon, the crew of HSE Enterprise end up in an unexpected emergency situation…
Can they save the day using their extensive industry experience and advanced tooling?
Find out at www.versatec.nl / www.viewport.ai